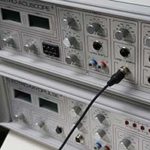 For those of us suffering from chronic pain, physical trauma, an athletic injury, depression, ADD/ADHD, symptoms from an accident injury, neck and back pain, inflammation and more, the Electro-Myopulse system is a proven treatment method approved by the FDA. The system is not a Transcutaneous Electrical Nerve Stimulation device or TENS device; it does not work by blocking pain signals, rather it treats at a cellular level with gentle, biocompatible micro currents.
Electro-Myopulse is not just for pain! Rejuvenate and refresh for immediate anti-aging results. This non-surgical "face lift" requires no needles or injections. Microcurrent improves collagen production and causes skin and underlying micro-muscles to become healthier from the inside out. By improving cellular metabolism, lines and wrinkles begin to disappear, revealing a smooth, toned younger looking appearance. The best part is you'll see results after just one session!
Above Average is the only licensed specialist in NE Wisconsin of the Electro-Myopulse System. Put an end to pain permanently, through drug free pain relief that works.
How does it Electro-Myopulse work?
The Electro-Myopulse system is completely non-invasive and causes no pain during treatment. This technology uses a circulatory treatment that repairs your body through its cells. There are two units that make up the system, one for your nerves and the other for your muscles. The two units sync to treat you through neuromuscular technology. The Acuscope measures and treats nerve activity, helping your nerves return to normal and reestablish healthy patterns. The Myopulse system utilizes myofascial biofeedback and treats your connective tissue, allowing it to identify your source of pain. This allows the system to treat your pain directly at its source and reduce inflammation. The Acuscope system is the only biofeedback-regulated micro-amperage technology today.
Who will this benefit?
This system can benefit people from all age groups and even animals. The Electro-Myopulse system can treat chronic pain stemming from various causes:
Acne
ADD/ADHD
Allergies
Alzheimer's Disease
Anxiety
Arthritis (Osteo and Rheumatoid)
Athletic injury
Autism
Back, head and neck pain
Bell's Palsy
Burns
Carpal Tunnel
Chemotherapy and radiation side effects
Chronic pain and fatigue
Circulatory disorders
Depression
Fibromyalgia
Hearing and Vertigo
Inflammation
Migraines
Multiple Sclerosis
Muscle spasms
Musculo-skeletal and myofascial pain
Organ detox
Parkinson's Disease
Post surgery pain and recovery
Plantar Fasciitis
Shin splints
Sleep disorders
Stretch marks
Tendonitis
TMJ and TMD
Wound healing
And many more
The Electro-Myopulse system is a huge benefit for athletes with reoccurring injuries.
How long will it take to start seeing results?
You will begin to feel and see results almost immediately, although it typically takes a series of treatments to provide longterm results and results vary by person or injury. Sessions are generally about one hour long. This treatment is not a band-aid for your pain, but it helps eliminate pain at its source.
If you are interested in learning more about the Electro-Myopulse system, please contact Dan at Above Average. Let's start your journey to a pain-free life.
Or if you're looking for additional information, please click here: Electro Acuscope Myopulse System.